April 2023 Update
DEAREST FRIENDS and FAITHFUL SUPPORTERS:
Greetings in the precious name of our Almighty Lord and Savior Jesus! It's so good to get back with you. It is the weekend, let me give you a view of the week through this update.
We cannot stop thanking God for His protection over the staff, teachers and all the children in our schools. Amid the wind of insecurity God is at work, He feeds, He leads, and He protects His children. Hope you and your loved ones are well.
In this update, we focus first on agriculture, primarily the mission farm. We will also present the words of gratitude of some micro loan recipients.
1. AGRICULTURAL FARMS IN LACROIX
In Lacroix, the farmers thank God for the first drops of rain after Lent. It is only after 6 months and a few days that the rain finally arrives in the fields. During the dry season, the population suffered from a lack of food, as can be seen in the open-air markets. As a result, the prices of these products increase and people who have little money cannot afford them. On the mission farm, preparations for this period have been underway for several months. We hired a man to prepare the field, to be ready for the rainy season. So it was a wise choice. We have already planted vegetables such as eggplant, papaya, tomatoes, chili, spinach, okra and leek. Next month, we will plant banana and coconut trees in another part of the farm. The next school reopening, the children of the school will find vegetables from this farm in their dishes. We are planning to buy a solar pump to water the whole farm.
2. MICRO-LOAN
We had a meeting with some beneficiaries' women of micro-loan of the mission. Let me remind you that we have sixty women in this micro-loan program. We took the opportunity to listen to the testimonies of some; we choose to share with you two in this update: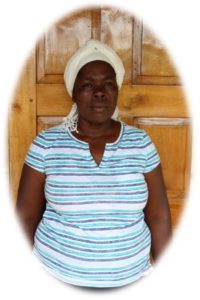 Mme DESIRA DARLERANT
Mother of 5 children, her husband became a sickly person since 13 years having difficulties to walk properly. She is a beneficiary woman of the mission's micro loan program; we have retained her testimony:
For three years I have been integrated into the mission's micro-credit. I passed the first and second stages and now I am in the third stage. This credit is a great help to me because I didn't have a personal fund to start a mini business; with this program, I was able to buy peanuts in the field and then sell them at the market and this allowed me to take care of my five children. It enables me also to help my husband with his doctor's visits and medicines. I thank God first, then I thank the brothers and sisters who are part of the staff of the mission, and finally I thank all those who contribute to help us women change our standard of living for the best. May the Awesome GOD JEHOVAH pour out his rich blessings upon you each day!
Aliette CHARLES
Hello! my name is Aliette Charles, mother of 3 children, I am a Christian, Maestro of the ladies' group of the New Testament Church. I have had a great affinity for the street business since I was very young. The last few years have been difficult and I have not been able to continue my street vending business because of this. After joining the mission's micro-loan program, I resumed my business and my turnover increased. In my country, no banking institution would lend money to people like me who have no collateral. I knew that God had a plan for me. I bless His name for the grace and favor He has given me, because for the past three years I have been receiving a loan from the New Testament Mission's micro- loan program. I thank the donors from the United States for their generosity and favor for the women of LaCroix. May God continue to bless you all!
Thank you for always standing with us in the advancement of God's work. We appreciate so much your prayers and your financial support. We couldn't do it without you. You and we are doing this work together for the glory of God.
Blessings upon all of you!
LaCroix New Testament Mission